"This class specializes in casting supportive spells. The wide-brimmed hat is her trademark."
— Description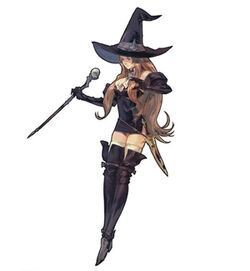 The Witch is a class in Tactics Ogre: The Knight of Lodis, Ogre Battle: The March of the Black Queen, Ogre Battle 64: Person of Lordly Caliber and Tactics Ogre: Let Us Cling Together. Charming and seductive, the Witch uses her spells to befuddle, paralyze and otherwise immobilize her enemies.
Appearances
Edit

The Witch has the appearance of a blonde woman in a tight black dress, wearing a wide-brimmed hat, wielding a rod. This class relies on stunning its opponents in the back row, preventing them from using their abilities. This back row ability is much better than two weak attacks in the front row. The Witch can also recruit
Pumpkinheads
, if the player possesses the
Glass Pumpkin
item.
Statistics
Edit
Witch
Resistances
Requirements
Level 5, Cha. 50+, Ali. 0-65
Physical
25
Size
Small
Fire
30
Leader
Yes
Cold
28
Recruit
Hellhound, Pumpkinhead (with Glass Pumpkin item)
Lightning
31
Movement Type
Plains
Black
48
Deployment Cost
440 Goth + (70 x level)
White
50
Statistic Increases Per Level
Hit Points
Strength
Agility
Intelligence
3-7
1-3
2-4
4-6
Attacks
Row
Description
# of Attacks
PSX Name
SNES Name
Element
Front
Smacks the enemy with a rod
2
Crystal Rod
Slap
Physical
Back
A thick cloud paralyzes all enemies
2
Stun Cloud
Stun
Physical
Witch
Requirements
ALI 0-60
INT 65
MEN 68
DEX 72
Class Type
Advanced (Female)
Size
Small
Leadership Rank
Unit Leader
Carriable Items
1
Movement Type
Plains
Statistic Growth Per Level
Hit Points
Strength
Vitality
Intelligence
Mentality
Agility
Dexterity
4
3
3
6
5
4
4
Equipment
Staves
Garments
Scipplay Staff
Witch's Dress
Spellbooks
Headgear
Spellbook
Pointy Hat
Attacks
Row
Attack Name
Description
# of Attacks
Element
Front
Effect Magic
Casts a status effect spell of her inherent element
1
Varies
Middle
Effect Magic
Casts a status effect spell of her inherent element
1
Varies
Back
Effect Magic
Casts a status effect spell of her inherent element
2
Varies
Ad blocker interference detected!
Wikia is a free-to-use site that makes money from advertising. We have a modified experience for viewers using ad blockers

Wikia is not accessible if you've made further modifications. Remove the custom ad blocker rule(s) and the page will load as expected.